Dear Friends,

Today we started off again as we visited a youth camp north of Vasa. We got to share the good news and talk about what Jesus is able to do with a group of 27 young people. They listened and this was probably the best possible way to start this summer. As you all know we have been living in the middle of a pandemic. I was updating the calendar and realised that it was February when we had some kind of meeting last time. It has been a while so it felt extra good to give out some Jesus to these wonderful you people.
ROCK'N GOSPEL SUMMER 2021

In less than one week we are connecting our old funeral car with our camper and our twelve meter long rig is on the road again. We start in Stockholm, Sweden June 19th and we end in Kalajoki, Finland August 8th. It will be a long tour but we are excited to get back on the road again.

This tour is not just a tour where we visit different churches and preach to the choir. We have a couple of churches and planned "meetings" but the rest is pure evangelism at different locations. The DNA of our ministry is to be out where the people are. We are thankful for all the doors that has opened up so far and we are pretty booked. Below you find the dates that are confirmed. We are still working on filling out some gaps but I guess we need a few days off in between as well.

I am personally looking forward to play some of the new songs from the upcoming albums "Born Again to rock and roll" and "On my knees". These times have given me the opportunity to write and record new material. I have also been specially encouraged by people like Ave Pasuri and E. Tapani Savolainen to continue to rock for Jesus. It is just one of those things that you want to do after all that Jesus has done for you! He is the rock that doesn't roll but we are going to roll on the roads in Sweden and Finland soon. We hope you are as excited as we are! It is all bout bringing the good news to the people where they are!

God Bless You All!

YOU CAN HELP US OUT! DU KAN HJÄLPA TILL! SINÄ VOIT AUTTAA!
Rockpastor Ministries rf Vasa, Finland
Bank Transfer:
IBAN: FI3649700010005435
BIC- / SWIFT: HELSFIHH
PayPal: donate@rockpastor.com
MobilePay Finland: 040 140 9885
Swish in Sweden: 070 545 9416
(mark your donation Pontus or Rockpastor)
Rahankeräyslupa/Penningsamlingstillstånd
RA/2021/776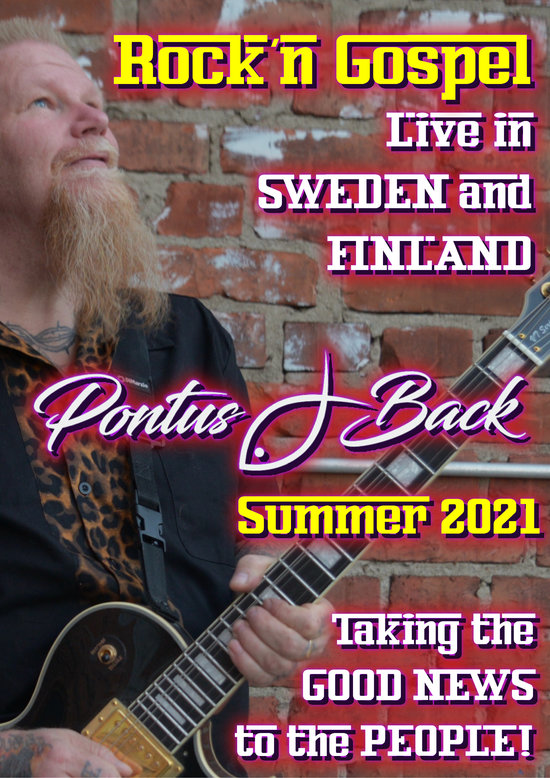 SWEDEN

19.06.2021 Mens retreat at Möbelgården
Märsta-Arlandastad, Sweden

20.06.2021 Church service at Möbelgården 12:00
Märsta-Arlandastad, Sweden

20.06.2021 Häggenkyrkan 18:00

22.06.2021 Vrångö Hamn

27.06.2021 Vrångö Hamn

29.06.2021 Torget i Skara

01.07.2021 Network MC

04.07.2021 Betel (Live Kanal 10)

06.07.2021 Knåda Sport 12-17:30

07.07 Ulf & Marias stuga

09.07.2021 Metal House Cafe

10.07.2021 Metal House Cafe

11.07.2021 Vevlinge Camping

14.07.2021 Mat & Nostalgi Cruise Inn

16.07.2021 Cruising event


FINLAND

17.07.2021 Tori

18.07.2021 Keskusta

19.07.2021 Santa's Pizza & Burger
Rovaniemi, Arctic Circle, Finland

20.07.2021 Santa's Pizza & Burger
Rovaniemi, Arctic Circle, Finland

21.07.2021 Keskusta

22.07.2021 Keskusta

23.07.2021 Keskusta

24.07.2021 Keskusta

25.07.2021 Tori

26.07.2021 Andy Mc Coy statue

28.07.2021 tba

29.07.2021 tba

30.07.2021 tba

More dates to come...