Dear Friends,

Our Rock'n Gospel tour has started. Finally we are back on the road and it feels very good! We left home late Thursday evening and Friday we took the ship from Turku, Finland to Stockholm, Sweden. Right after our arrival we visited the Finnish Pentecostal church where we did record some footage for their church channel. I did five songs and it was wonderful to meet brother Jari and brother Reijo after all these years.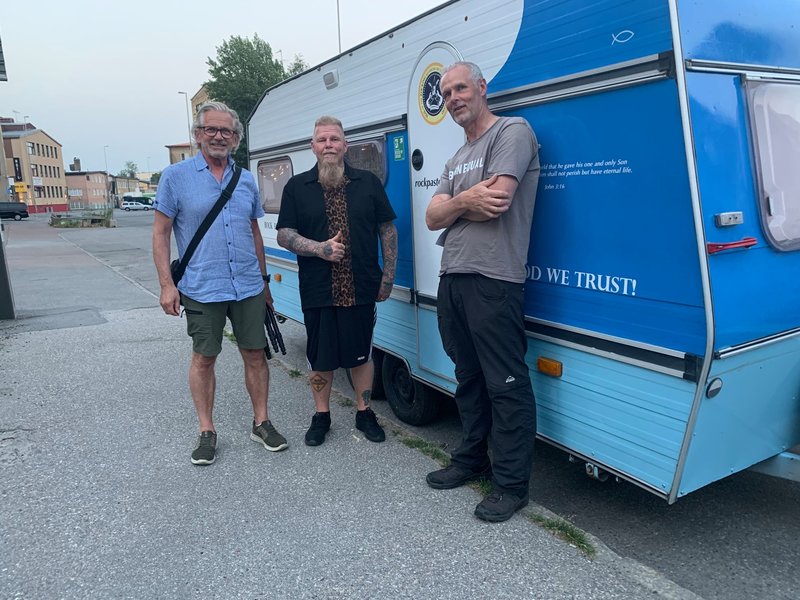 Saturday was a mens retreat at Möbelgården outside Stockholm. The Finnish Pentecostal church was involved and it was the first meeting ever held at this location. A wonderful place that has lots of potential to serve the Kingdom of God. It was a privilege to be there on this first event. We had church at the same place on Sunday at noon. Very good response and I believe that the people who came there got something from Jesus.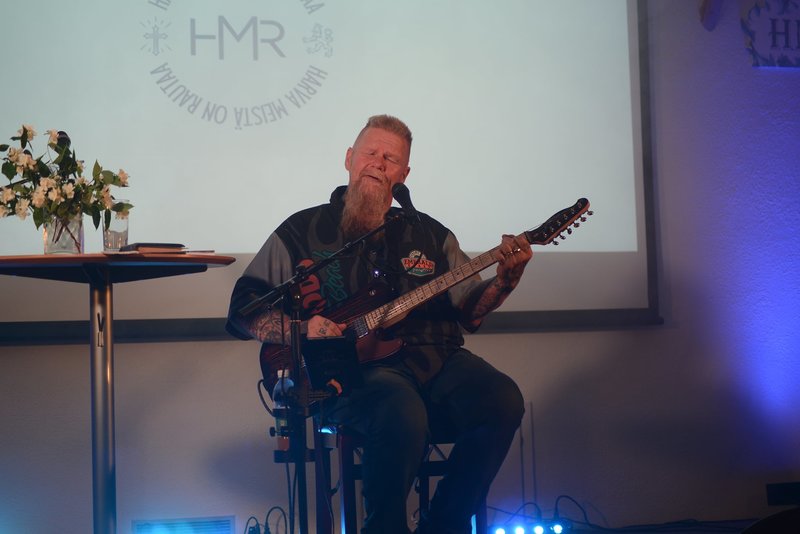 After church we had to hit the road as we had our next service at a church in Oxelösund, one hour south of Stockholm. It was another good time and wonderful to meet our friends there again. From there we drove to Gothenburg and the following morning we took a ferry here to Vrångö island in the beautiful Gothenburg archipelago where we are now.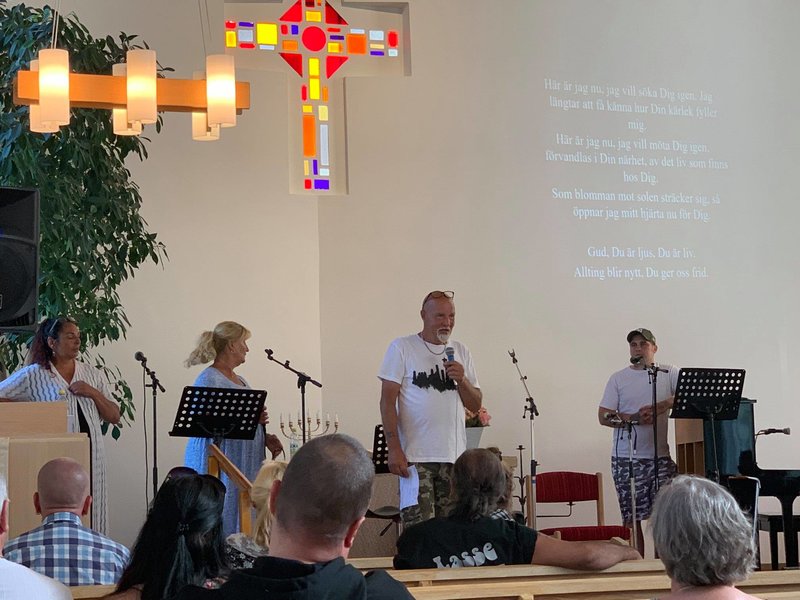 Today was our first day of ministry here. We are located in the guest harbor where boats come and go. We are parked outside the only store on the island and all the people who come with their boats has to walk by us. We had a fantastic first day and we had many good talks with people. It was over my expectations for the first day. I thought it would be quiet before the weekend but I guess when the weather is good people get out in their boats.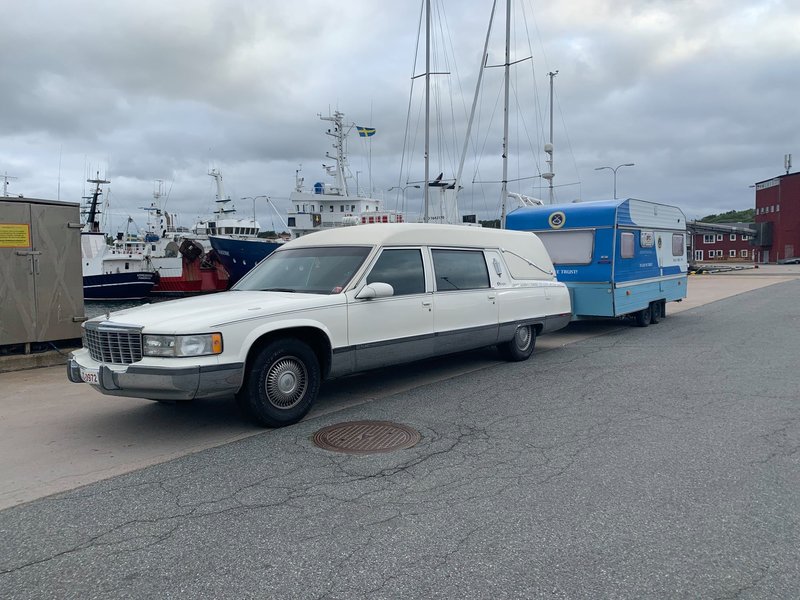 We are going to continue here the rest of this week and this weekend is midsummer that is a major holiday here in Scandinavia. Especially here in Sweden. We are looking forward for the rest of the week and so looking forward for the rest of this tour. All the confirmed dates are listed below.

When we are on a journey like this we do all we can to reach those who do not yet believe. Our set up with the Cadillac hearse and the Rock Force One camper does its job. I do not know how many people have stopped and taken a picture of just the vehicle. There is a text on the side; "Do not worry! There is life after death!". Personally I believe that when people read it they also think about what it means. Our message is clear: Jesus is the ONLY way to eternal life in heaven. There are NO other ways. Jesus is the way, the truth and the life and from here it is good to continue to reach people with the love of Jesus. Keep us in your prayers, we need them.

God Bless You All!

YOU CAN HELP US OUT! DU KAN HJÄLPA TILL! SINÄ VOIT AUTTAA!
Rockpastor Ministries rf Vasa, Finland
Bank Transfer:
IBAN: FI3649700010005435
BIC- / SWIFT: HELSFIHH
PayPal: donate@rockpastor.com
MobilePay Finland: 040 140 9885
Swish in Sweden: 070 545 9416
(mark your donation Pontus or Rockpastor)
Rahankeräyslupa/Penningsamlingstillstånd
RA/2021/776
SWEDEN

19.06.2021 Mens retreat at Möbelgården
Märsta-Arlandastad, Sweden

20.06.2021 Church service at Möbelgården 12:00
Märsta-Arlandastad, Sweden

20.06.2021 Häggenkyrkan 18:00

22.06.2021 Vrångö Hamn

27.06.2021 Missionskyrkan 10:00

29.06.2021 Torget i Skara

01.07.2021 Network MC

02.07.2021 Missionskyrkan

04.07.2021 Betel (Live Kanal 10)

06.07.2021 Knåda Sport 12-17:30

07.07 Ulf & Marias stuga

08.07.2021 Bibliotekets scen

09.07.2021 Metal House Cafe

10.07.2021 Metal House Cafe

11.07.2021 Vevlinge Camping

14.07.2021 Mat & Nostalgi Cruise Inn

16.07.2021 Cruising event


FINLAND

17.07.2021 Tori

18.07.2021 Keskusta

19.07.2021 Santa's Pizza & Burger
Rovaniemi, Arctic Circle, Finland

20.07.2021 Santa's Pizza & Burger
Rovaniemi, Arctic Circle, Finland

21.07.2021 Keskusta

22.07.2021 Keskusta

23.07.2021 Keskusta

24.07.2021 Mocka Tupa

25.07.2021 Tori

26.07.2021 Andy Mc Coy statue

28.07.2021 tba

29.07.2021 tba

30.07.2021 tba

More dates to come...