Dear Friends,

Right now we are in Kemijärvi and yesterday we ministered here and today we were in Salla, only 10 miles from the Russian border. I will come back to these dates next time as now I want to share the five days of outreach we had in Rovaniemi. We started Monday at Santas Pizza & Burger's right at the Arctic Circle. We set up right outside the entrance and we had a decent crowd, even if we had some days of cold weather.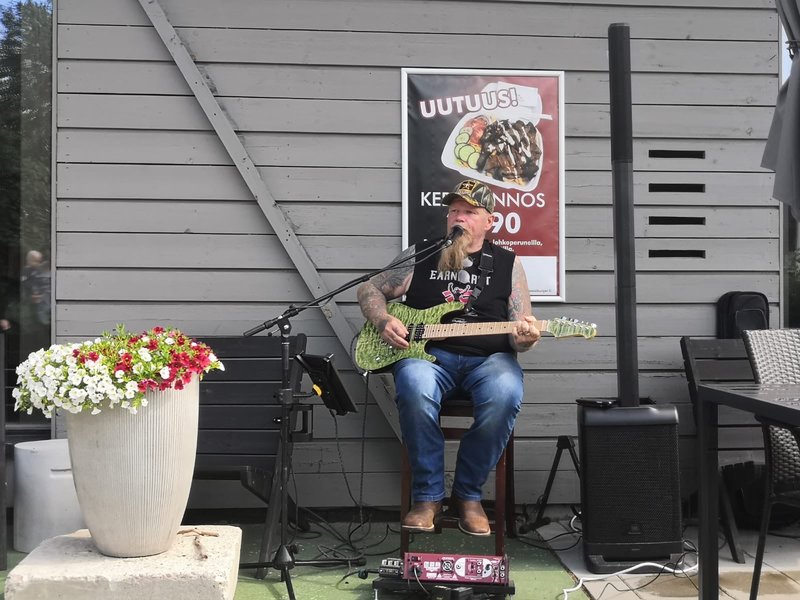 The following day, Tuesday we set up a little bit on the side and we had more people listening as we were right on the parking lot where people park to visit the tourist attraktions in the Santa Claus village. We met people from Germany, Holland and of course Finland and we got to share the good news with them and we had some really wonderful discussions with people.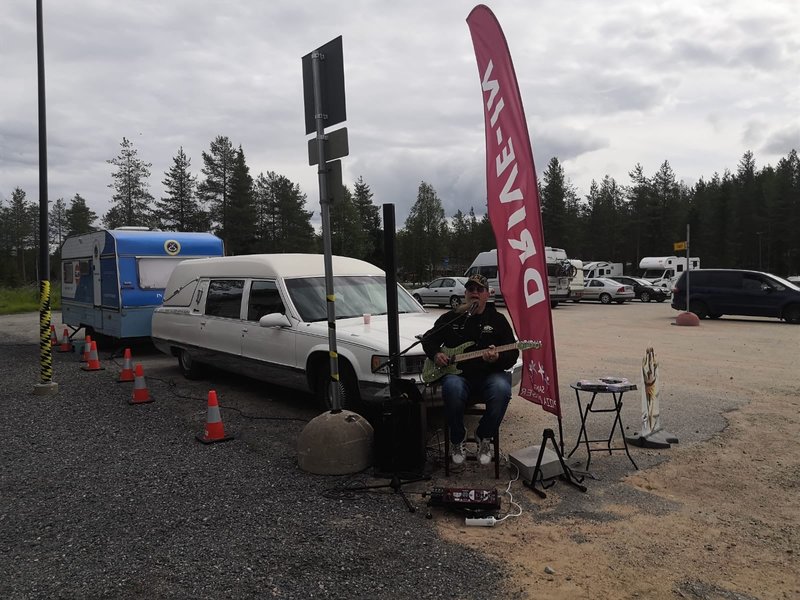 From the Arctic Circle we headed towards Rovaniemi downtown and we stayed at a camping right on the other side of the Kemijoki river across from the town centre. Wednesday we did not have the weather on our side. We had scheduled three days of outreach on the Lordi Square right in the heart of the city. This first evening we had to set up under a roof but while we were ministering it did not rain.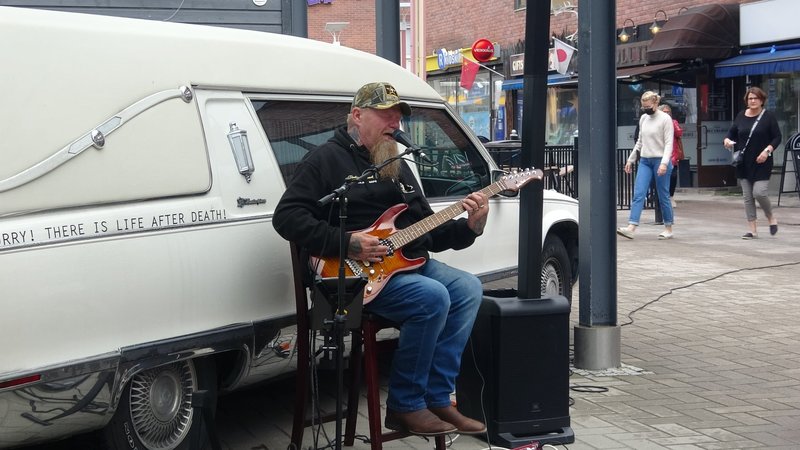 The second night, Thursday night the weather was way better and the sun was out. It was still not that warm but we had a good crowd. People really pay attention to our funeral car and it makes them stop up and listen to what we have to say. Between each and every song the good news are shared and my life is like an open book on both good and bad. I am not trying to be one of those "perfect christians" as I am not perfect. People wants to see something real and all I have to do is to be myself and tell about what Jesus has done in my life. After we were done and had loaded the car it started to rain so we take that as a sign that God is with us.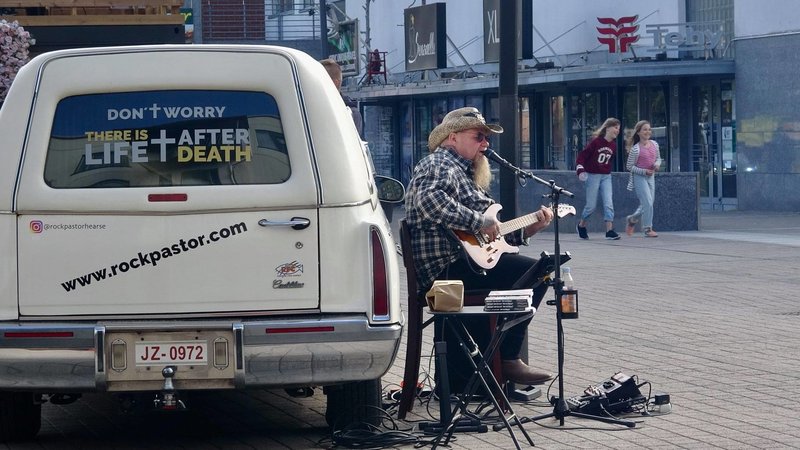 Friday evening we started a bit earlier and ended a bit later. We had really good weather as it is starting to warm up after the cold front we had the last days. We had some young people come and listen who really needed Jesus in their lives and again we got to tell the people who struggle with drugs and alcohol that the one the Son set free is free indeed. During all outreach events we have given away my new book "Where do I come from? Who am I? Where am I going". We do not want to force ourselves or any kind of literature on people. We have a table with the books and a sign that clearly says "for free". This is made possible by the Pentecostal churches here in Lappland and we are grateful for this. To be able to give away books for free is a huge blessing as the book is a true story about a changed life. Nothing I could have accomplished myself it is just another true Jesus story.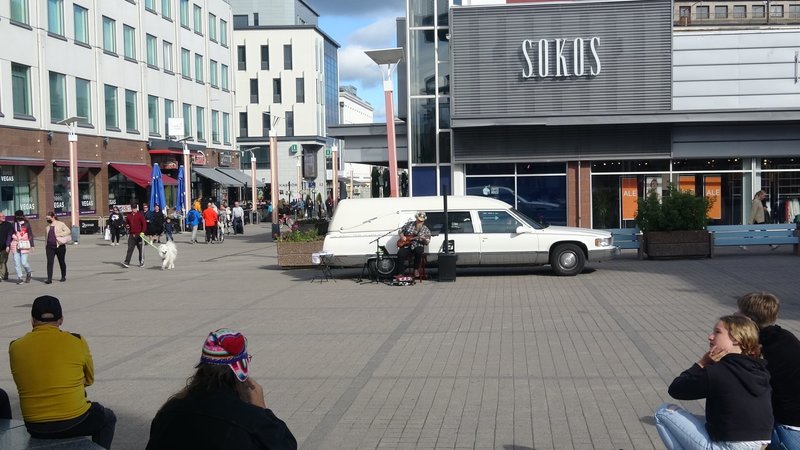 Sometimes I wonder why we keep doing this. We do not see hundreds or thousands of people get saved. Still that one man who wanted to believe in Jesus with tears in his eyes and to pray the sinners prayer with him and connect him with local christians is worth everything. That one woman who thought she ain't worthy for Jesus and that Jesus does not love her makes it worth even more as today she belongs to Jesus and is also connected with local believers. To us it is very important to have local christians with us as when someone gets saved they need people to stay in touch with.

Now we have one week left of this journey before we are heading home. Financially it has not been a big hit due to some obstacles on the way, but still it has been worth everything and I am writing this with great joy in my heart.

God Bless You All!


26.07.2021 Andy Mc Coy statue 15:00

28.07.2021 Helluntaiseurakunta

29.07.2021 Helluntaiseurakunta

30.07.2021 Wood & Jewel 12:00

30.07.2021 Joppari 17:00

31.07.2021 Joppari 11:00

31.07.2021 Oravanpesä 18:00

01.08.2021 Pyrevä puisto 18:00
YOU CAN HELP US OUT!
DU KAN HJÄLPA TILL!
SINÄ VOIT AUTTAA!
Rockpastor Ministries rf Vasa, Finland
Bank Transfer:
IBAN: FI3649700010005435
BIC- / SWIFT: HELSFIHH
PayPal: donate@rockpastor.com
MobilePay Finland: 040 140 9885
Swish in Sweden: 070 545 9416
(mark your donation Pontus or Rockpastor)
Rahankeräyslupa/Penningsamlingstillstånd
RA/2021/776