Dear friends,

Things are moving in a direction I never could dream about. Since the pandemic came we have been focusing on reaching people mostly in Finland and Sweden. I thought there would not be a life without USA but what we have experienced during the two last years just shows that when one door closes God is opening another door. For two summers now we have traveled around with a camper and personally I have loved it.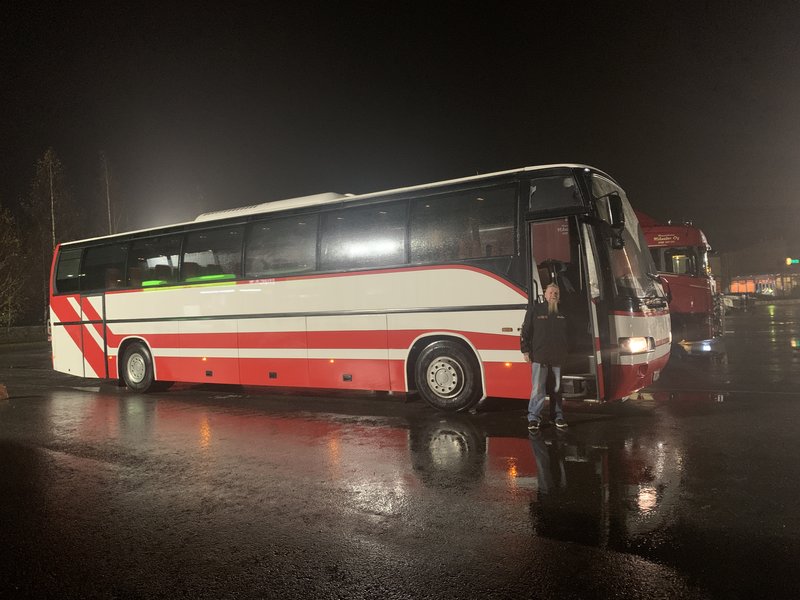 Since I made a decision to do what God wants me to do and not make plans on my own our ministry is on our way to another level. It has been such a blessing to travel around with the camper, set up at various places and play, sing and share at different locations. We have managed to reach people we would not have reached being somewhere else. Also a step to more and more serve outside the four walls of the church has showed good fruit.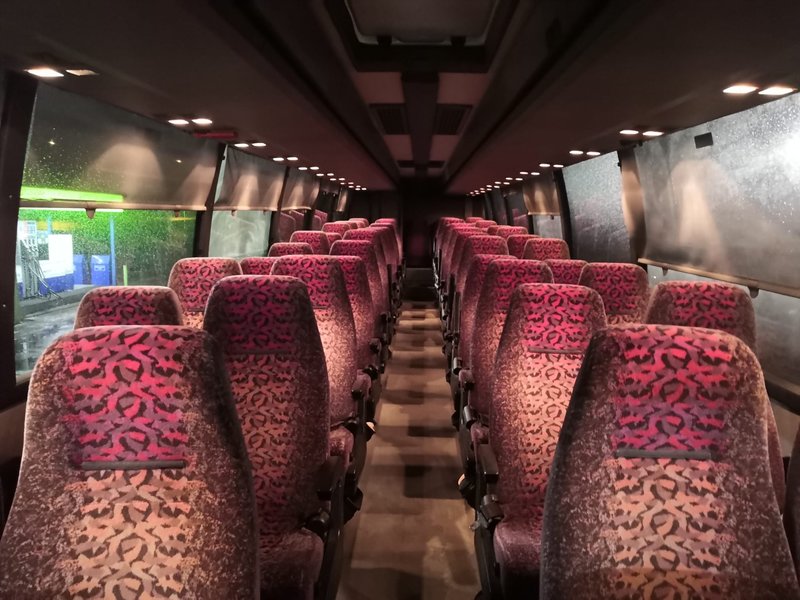 For years I have had a dream to have a "tourbus" and today this dream has become true. October 21st me and Sebastian traveled to the other side of the country by train and drove home our new vehicle. It was a blessed trip and since then we have been working on transforming it into how we want it to be. It will not only be our transportation, it will also be our home while we are on the road. It has been such inspiring to work on it as we both are very excited and can't wait to get out on the road again.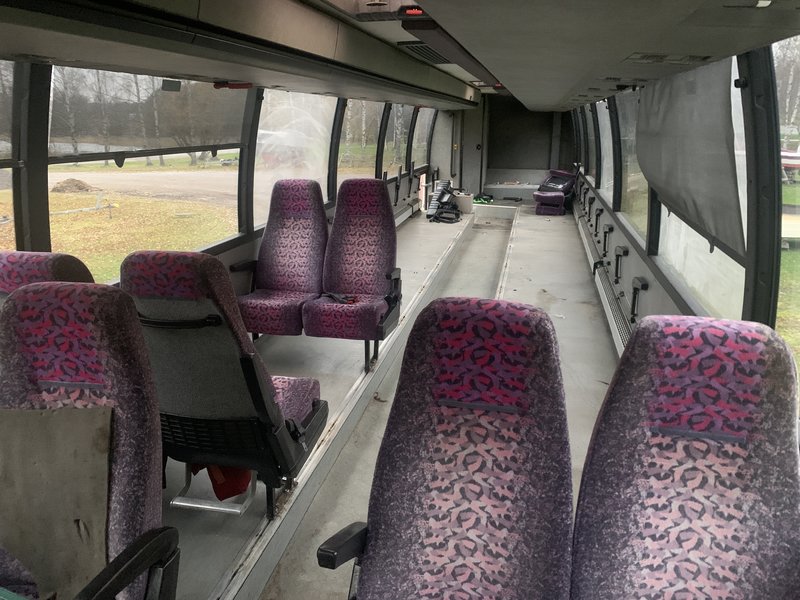 There has been lots of work involved. First to tear down the interior and remove most of the seats. Then to measure everything and make a plan. After that it was time to build a floor. We are blessed to know people who believe in what we do. We have used mostly left over materials and the floor is built on b-stock panels. Some of the furniture have been donated to us and some we have teared down from an old house that is going to be taken to the ground. In only a few weeks time we have made progress and it is soon time to re-register the bus as a camper.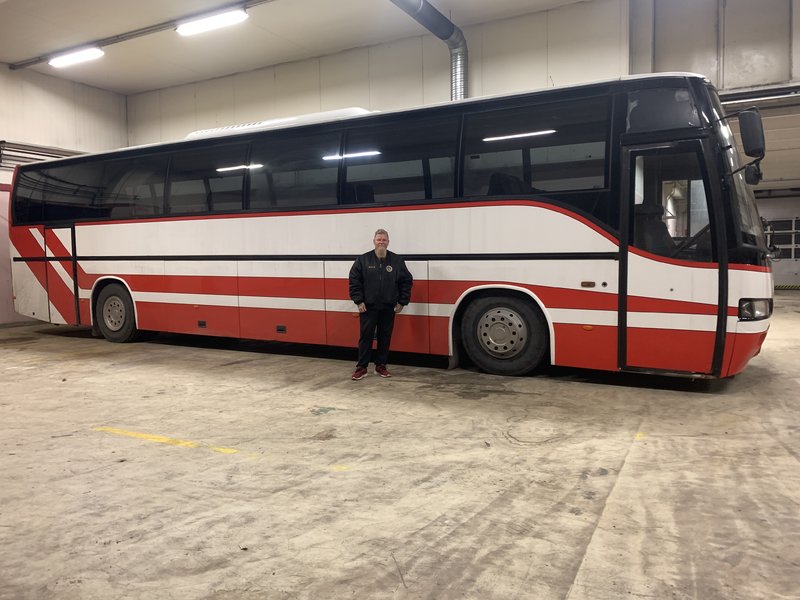 The vision is clear. To go from place to place, set up, play some music and share the good news about Jesus Christ at places outside the four walls of the church. We still hope to be able to work with local churches as the connection with the local churches is very important. Since the bus is 13 meters long we have created a space in the front where we can host 6-8 people at a time. We want to invite people who need to talk and we gladly use the space to pray for and counsel people. We are also going to be able to serve fresh coffee from a high quality coffee machine that brews one cup of fresh coffee at a time, thanks to Kahvikaveri and Tommy Lilja Ministries.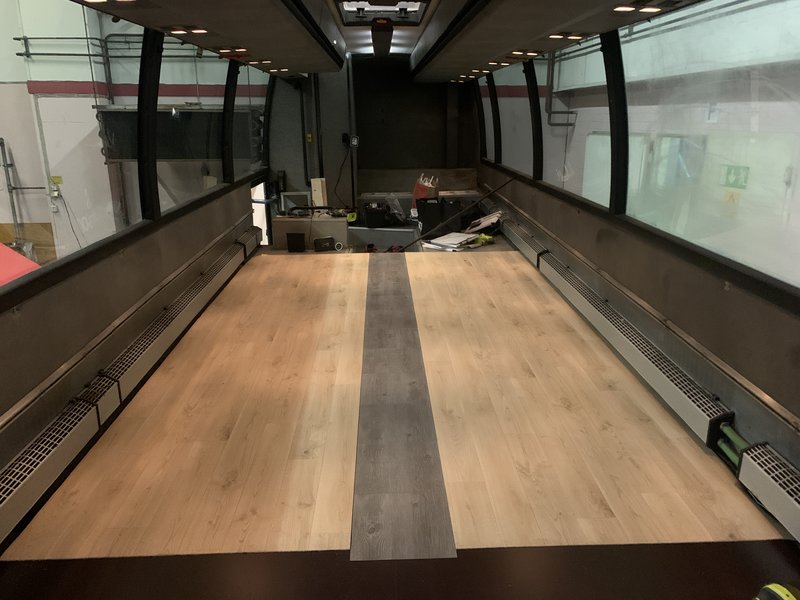 We are also not depending on expensive hotels anymore as long as we find a place to park and electricity. Personally I believe that as we plan our trips there are churches and businesses that let us park for one night on their property. Also campgrounds are good summertime.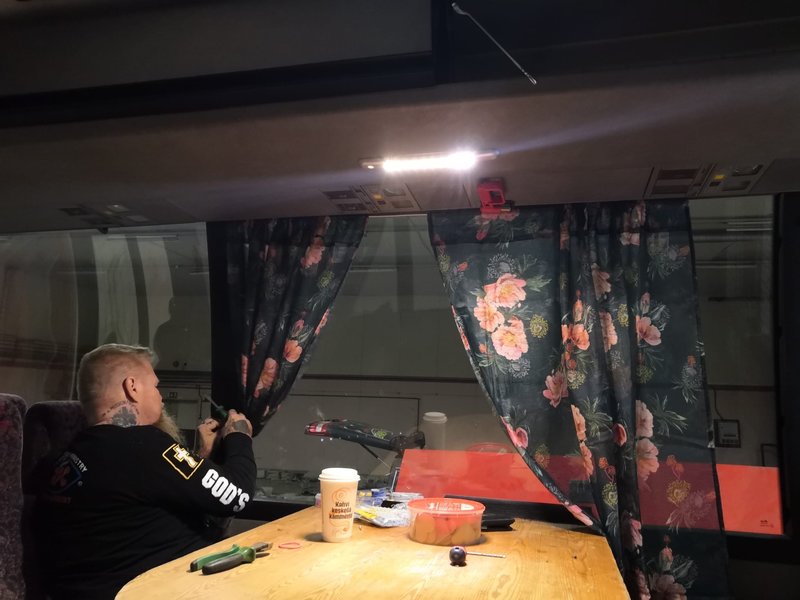 For next summer the bus will have a stage that you just pull out from the storage room and everything will be ready for an event. This way we come with everything we need. We just need the space and electricity. Our heart is to come to different places to serve and since the DNA of our ministry is to preach the Gospel to people where they are the name of the bus will be GOSPEL EXPRESS. The logotype is ready, created by Mikko Talso and before the end of the year the bus will hopefully be ready for its first missions.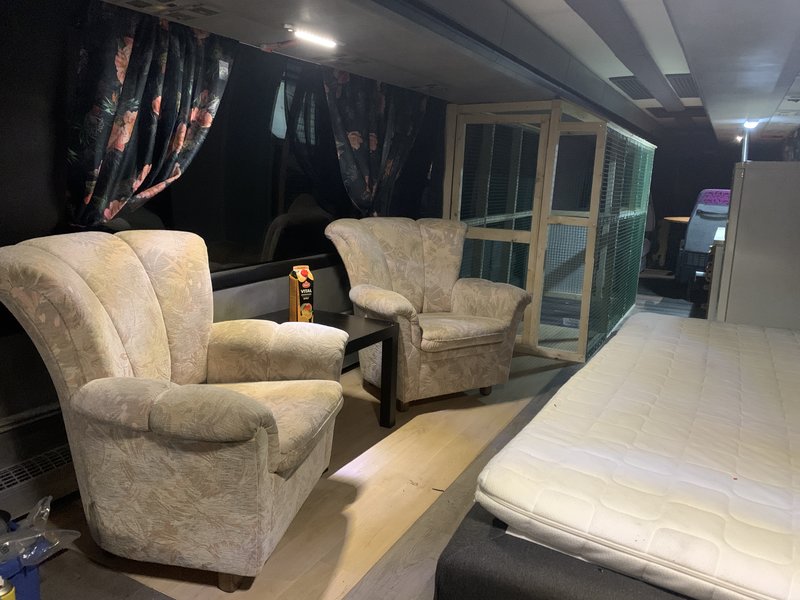 There are still things we need to invest in, such as a better heating system so that we can stay warm even if we are up in northern Finland doing outreach at events such as the Arctic Rally and amongst snowmobile people. The re-registration is also something that is pretty expensive and still we need to invest in some material and components to make it all work. IF you want to help your help is welcome and all donations goes to reach people with the good news about Jesus Christ, salvation and eternal life. We just received our new permit to collect donations for our missions by the local police department,RA/2021/1505.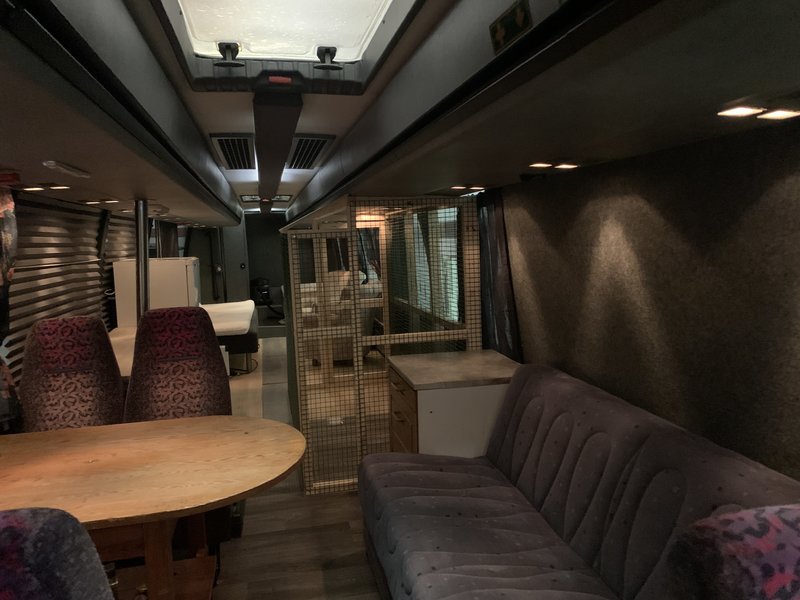 When we are out reaching people, music is a vey important part of what we do. Music creates and interest and when people here music they come and listen. Therefore I have just recored a new cover album "The Secular II - The Flame Still Burns". The album will be released digitally on-line, December 3rd. Now I have a wide selection of backing tracks that people know. To be able to mix famous music with my own songs and testimony about what Jesus Christ has done in my life have worked for 14 years now. In January 2021 I celebrate 15 years, clean and sober. This is part of the message to todays youth and other people. There are no need to take drugs or alcohol to feel good. When we surrender everything to the Lord, He will be with us a take us through the hardest storms. When we get out of the storm and look back we realise that all the glory goes to God.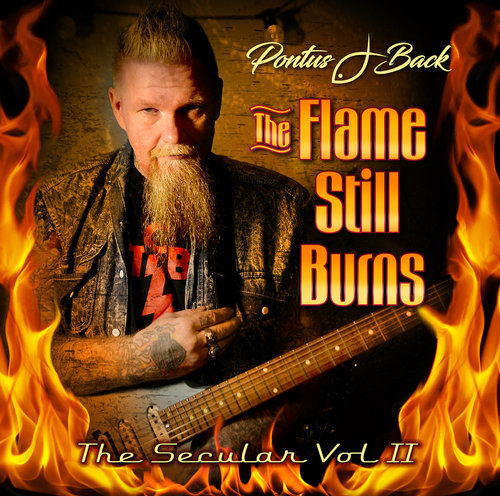 I hope that YOU are excited with us. We are very much excited to get out on the road, keep our eyes on Jesus and meet people with the love He loved us with first. Imagine that inviting one person to sit down for a cup of coffee in the bus and a talk can change the eternity for this one person. This is how we want to do it; one soul and one time. We hope you keep us in your prayers and help us if you can.

God Bless You All!

YOU CAN HELP US OUT!
DU KAN HJÄLPA TILL!
SINÄ VOIT AUTTAA!
Rockpastor Ministries rf Vasa, Finland
Bank Transfer:
IBAN: FI3649700010005435
BIC- / SWIFT: HELSFIHH
PayPal: donate@rockpastor.com
MobilePay Finland: 040 140 9885
Swish in Sweden: 070 545 9416
(mark your donation Pontus or Rockpastor)
Rahankeräyslupa/Penningsamlingstillstånd
RA/2021/1505